Software Issue Manager Starter
WordPress Plugin Demo Site
Software Issue Manager Starter WordPress Plugin provides software issue management functionality for small development teams.
You can use this site to:
To learn how to create your site using Software Issue Manager
To identify software defects and ways to fix them
To learn how to use Software Issue Manager
Why Software Issue Manager?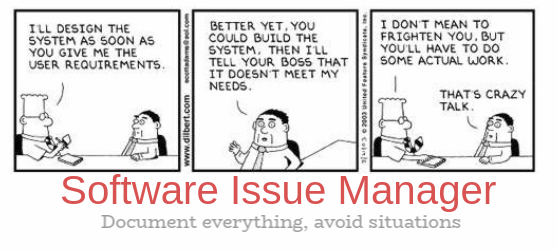 Have you ever received a support email from a customer with a title "It does not work"? The description says the same thing: "It does not work". As a developer or client manager, you are left with many questions; one of them being "What does not work". The questions follow; "When does it not work" and "How does it not work?".
The example above is not really uncommon. Nontechnical users do not have any knowledge how software works. They simply follow certain steps to accomplish certain tasks using your software. When things happen out of order and they easily go into panic mode and start sending emails like the one above.
Of course, if you're using email as your bug tracking tool, you cannot enforce rules for issue submission. You cannot easily keep track of conversion on a specific issue. Revisiting a resolution after an issue is closed is a nightmare by itself due to the number of email you get in daily basis. So what are you going to do?
To protect your sanity, we recommend using a tool called a bug tracker or better yet; let's call it requirement management and analysis tool. Requirements can be bugs, tasks, feature requests or simple improvement requests. As a software developer or project manager or business analyst, you are required to be able to manage these requirements to your customer's satisfaction.
Software Issue Manager helps you just do that. You can organize your projects, create issues using an issue entry form and assign them to one to many projects. When an issue is resolved you send an email to your client to confirm that it works for him or her. If you know which fields are important for you to resolve your issues, you can enable or disable them.
At the end, it is a win-win for you and customer. Customer knows who is assigned to resolve his or her issue, what the current status is and the next steps. You know you got what you need from your customer to resolve his or her issue. You also have a better place communicate on a specific issue other than a bunch of emails.
Quick Start
Create projects
Create issues
Link issues to one to many projects
Allow access to clients or customers
Start working on resolving issues
Software Issue Manager Links
Documentation
Demo Sites